Charlotte workers who like to get away from the bustle of in-town life after a long day at work might want to consider the resort-like lifestyle found in the Lake Wylie area, which starts in the southwest corner of Mecklenburg County and extends across the S.C. state line into York County and northward into Gaston County.
Dozens of new developments are popping up around the lake, and as growth continues, waterfront property is becoming more and more scarce, driving up property values.
The community of Lake Wylie – on S.C. 49 just across the Buster Boyd Bridge – is not an incorporated city, but a collection of neighborhoods and businesses around the lake's 327-mile shoreline. The lake was created in 1904 and named for Dr. W. Gill Wylie, who helped persuade his patient, J.B. "Buck" Duke, to dam the Catawba River to generate hydroelectric power. The move sparked a wave of textile manufacturing in Mecklenburg, Gaston and York counties.
Today, the residents of this area have come together in lieu of a city government to preserve and improve the vacation atmosphere that comes with living on the lake. The Lake Wylie Chamber of Commerce has been a strong force in this unincorporated area, rallying to bring businesses to the area, regulate growth and acquire government dollars for infrastructure improvements.
One such improvement is the widening of N.C./S.C. 49 and the Buster Boyd Bridge. The commute from Lake Wylie to Charlotte along N.C. 49 has long been a popular but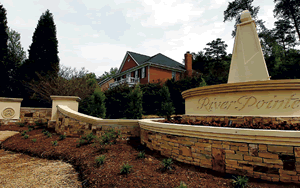 congested route, and residents celebrated the opening of the four-lane thoroughfare in 2005.
On the Mecklenburg County side of Lake Wylie is McDowell Park, located on N.C. 49 just as you approach the bridge. The park offers a sweeping view of some of the most scenic areas of Lake Wylie accessible by car. The 1,108-acre, county-operated nature preserve offers hiking, camping and a nature center with educational programs for kids and adults.
On the Fourth of July, Lake Wylie is a popular place to see a patriotic display of fireworks. Boats assemble near the bridge and landlubbers park their cars nearby to see the colorful display. During the Christmas season, boaters decorate their rigs with lights and wreaths for the annual Christmas boat parade.
Camp Thunderbird, a YMCA-operated summer environmental camp, attracts hundreds of school-age children for fun and learning.
If you plan to go boating or skiing, check the safety regulations imposed by the Lake Wylie Marine Commission (www.lakewyliemarinecommission.com). Among other things, the rules require a third person aboard each boat pulling a skier (the third person serves as an observer) and set restrictions on blood-alcohol content for water skiers.
River Hills, on S.C. 49, is one of the most established neighborhoods in the area, with homes ranging from condominiums to mansions worth well over $2 million. The neighborhood of cedar and cypress-framed homes includes a gated entry, tree-lined streets, an 18-hole golf course, tennis courts and a covered-slip marina.
Tega Cay, another established upscale lakeside community, is off I-77 and Gold Hill Road on a peninsula of Lake Wylie in South Carolina. The neighborhood was begun in the 1970s and was originally modeled after a Polynesian resort. It includes a 27-hole golf course and marina.
The Mecklenburg side of the lake is seeing major growth through the development of the Palisades, the Sanctuary and Berewick.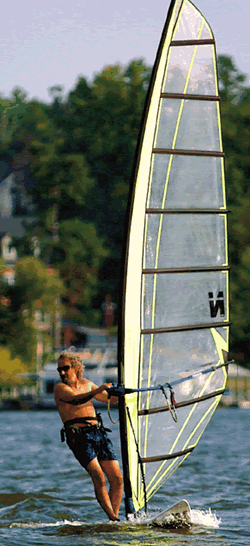 Endorsed by Audubon International for maintaining the natural beauty of the land, the Sanctuary is spread out over 1,300 acres near McDowell Park. The development features lots ranging from two to more than 13 acres. Twenty miles of nature trails traverse through the community, which also offers 200 acres of natural areas. The Camp is the Sanctuary's lakefront community center with swimming pools, tennis courts, a fitness center, kids' room, playground, picnic areas and boating center. Homesites at the Sanctuary range from $300,000 to $2 million, and 20 million-dollar homes are available.
Berewick covers 1,050 acres in southwest Charlotte and is a mixed development of offices, shops and multi-family housing in its town center, with single-family homes in nine different communities ranging from the $180s to the $450s.
South of N.C. 49, the Palisades is a 1,500-acre development with a Nicklaus Design championship golf course, country club, equestrian center, soccer complex and trails. Homes at the Palisades range from the $400s to more than $2 million.
At the intersection of N.C. 49 and N.C. 160, RiverGate is home to a Home Depot, Super Target, grocery store and other shops and restaurants.
Located a mere 20 minutes from Charlotte, The Landing offers a peaceful atmosphere of nature and waterfront living in addition to its walking trails and park. The Shoppes at the Landing is a mixed-use development of retail and offices.
There is plenty of new construction on Gaston County's Belmont peninsula, including Reflection Pointe, a waterfront development that features a clubhouse, pool, tennis courts, trails and boat slips.
Daniel Stowe Botanical Garden is located on 450 acres on South New Hope Road in Gaston County. The property is the former home of Daniel Stowe, a textile businessman who gave the property, along with $14 million, to establish an endowment to develop the garden. Currently, 110 acres have been developed, but operators have plans to develop the entire property into one of the premier gardens of its kind in the country. The garden features a grand, 13,500-square-foot visitors' pavilion and themed gardens filled with plants that thrive in Piedmont soil and weather, accented with a dozen sparkling fountains and canals. The garden is open seven days a week.
Adjacent to Daniel Stowe Botanical Garden, a 750-acre plot of farmland formerly owned by the Stowe family will be transformed a retail and residential development called Seven Oaks Farm.