Charlotte's Golf Real Estate
North Carolina golf courses come close to being national treasures, and the Queen City in particular loves her links. The incredible demand for golf across the country is reflected in Charlotte, where a number of new courses – most with adjacent communities – have been built in recent years.
Whether you're an avid golfer or just want to live this luxurious lifestyle, there's a development in or around Charlotte to suit you. Many of the homes are custom-built and admittedly pricey, but you can find some production homes that fit a more modest budget.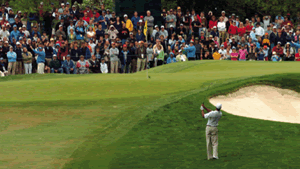 Charlotte has always had posh golf-course neighborhoods. The original golf-course communities are now elegant in-town neighborhoods that abut established courses such as Myers Park Country Club and Charlotte Country Club. Other sites a bit farther out of town include Quail Hollow, home of the Wachovia Championship on the PGA Tour and a place where you can find truly exclusive living in nearby Seven Eagles. In addition to Quail, Carmel and Raintree provide a complex of reasonably priced contemporary homes and condominiums off N.C. 51.
I-485 (the outerbelt) is making south Charlotte communities even more accessible to other parts of the city including Piper Glen off Rea Road and Providence Country Club near the Union County line.
Ballantyne includes an 18-hole championship course, a clubhouse and a swim and tennis center. The community, which has plenty of elegant neighborhoods to choose from, also offers something different – a neotraditional community with cozy, bungalow-style homes.
In northeast Charlotte, Highland Creek's popularity continues to soar. This 1,800-acre multi-builder community off Ridge Road includes not only golf, but also running trails, parks and other amenities.
North Mecklenburg includes a wonderful – and growing – collection of beautiful golf-course communities. The Peninsula, a 1,000-acre custom community off Jetton Road, blends exciting golf with the beautiful shore of Lake Norman. River Run, off Davidson-Concord Road, boasts a gracious Jeffersonian-style clubhouse and a convenient location near Davidson, a swimming pool, indoor and outdoor tennis court and walking paths.
Birkdale is a 610-acre master-planned community that includes elegant homes by several select builders. One of Birkdale's top features: an Arnold Palmer-designed championship golf course that's open for daily fee play.
Southwest Charlotte will soon welcome The Palisades, a 1,500-acre community with an 18-hole Nicklaus Design championship course and country club.
In York County, River Hills offers an 18-hole course and country club on the shores of Lake Wylie. Tega Cay's nine-hole golf course has opened up in addition to the 18-hole course already in place, and the surrounding Lake Shore on Lake Wylie offers homes and town homes with gorgeous views of the lake and golf course.