Nestled between Uptown's high-rises and Charlotte's southside suburbs are what many consider the jewels of the Queen City's residential crown – its original streetcar suburbs. As you travel the broad, tree-lined, leaf-canopied streets, you'll see the Charlotte of the turn of the last century and pre-World War II.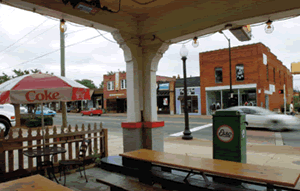 Real estate listings for Charlotte's center-city neighborhoods are in areas 3, 4, 5 and 6 on the Multiple Listing Service.
Start in the oldest suburb, Dilworth. The vision of Edward Dilworth Latta, this neighborhood was developed in the 1890s thanks to the advent of the streetcar and was the first place for Charlotteans to live outside the city. The streets of Dilworth feature house after house with front porches. The homes are primarily bungalows – with the occasional Queen Anne thrown in – and some larger, two-story Colonial Revival homes that line Dilworth Road East and West.
East Boulevard divides the residential areas. The road is lined with restaurants, offices and shops, many located in renovated homes. New developments like Latta Pavilion – named after Dilworth's original entertainment center – offer condominiums, office and retail space, landscaped courtyards and walkways.
You also will find the city's only Greek Orthodox Cathedral, which draws thousands to its annual Yiasou Greek Festival in September. At the other end of the boulevard is the entrance to Freedom Park, well known for its annual arts festival, athletic fields, walking paths and amphitheater.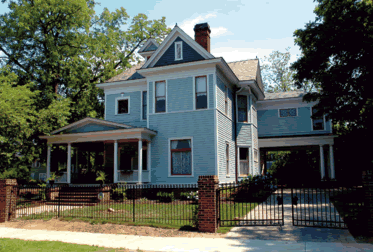 Charlotte's largest hospital, Carolinas Medical Center, is in Dilworth. This 861-bed teaching hospital is the region's only Level 1 trauma center and is the centerpiece of the ever-expanding Carolinas HealthCare System.
South End, one of Charlotte's hottest communities, is on Dilworth's western edge. Just 20 years ago, the area was an eyesore of run-down mills. Today, the mills have been renovated into shops, restaurants and lofts, making it a trendy locale.
While the rebirth initially generated commercial development, new residential options have cropped up, including Summit Grandview and The Arlington, a 25-story condominium high-rise with a pink hue.
South End is also home to the Charlotte Trolley – out of service during construction of the light rail line – which is expected to resume operations in late 2007. Residential and commercial development has boomed near the tracks, and property values along the route have skyrocketed in anticipation.
If you're more traditional than trendy, Myers Park may be right for you – if you can handle the price tag. Myers Park was developed in the early 1900s by a real estate tycoon who wanted to create a neighborhood in the country. Today his countryside is a mere five minutes from Uptown, but you can't help feeling miles away as you travel the curving boulevards and lanes with their towering willow oaks that dwarf even the grandest Myers Park homes.
While most of the homes in Myers Park are older, traditional houses, a few infill projects offer new options. These projects, primarily townhouses and condominiums come at a hefty price due to skyrocketing land values. In fact, Myers Park features two of only a handful of developments with units exceeding $1 million. Among them is 2400 Roswell, with 21 luxury condos and nearby St. Serrant, offering two balconies for each of its 11 units. Both developments provide lavish décor and amenities to appeal to the most prestigious tenants.
The Queens University campus is on Selwyn Avenue, in the heart of Myers Park. This liberal arts school was founded in 1857 and moved to its Myers Park campus in 1914. In addition to undergraduate studies, the university offers several graduate degrees, courses for working professionals and continuing education classes.
The shops and restaurants along and just off Providence Road on Myers Park's eastern edge – including Laurel Market, the shops in the Villa and the old Manor Theater (rumored to be haunted!) are neighborhood favorites.
Eastover, tucked between Providence and Randolph roads, was developed after Myers Park and features majestic homes on broad, rolling lawns. Some of the original homes have been replaced by even more grandiose homes or infill projects for the truly discriminating buyer. The Crillion, an upscale development of 11 luxurious townhomes in the heart of Eastover, features units priced over $1 million.
Eastover is also home to the Mint Museum of Art, which garnered its name from the building in which it is housed – Charlotte's original mint, which was moved from Uptown to this site in 1936. The Mint specializes in art of the Americas, from pre-Columbian to present day, and presents many national exhibits.
Across Randolph Road is the charming community of Elizabeth, a pedestrian-friendly neighborhood where residents can walk to a variety of locally owned restaurants. The homes, located off Randolph Road and Seventh Street, are bungalows, but feature a greater architectural variety than those of Dilworth. Consequently, the neighborhood's popularity means even the smallest homes fetch a hefty per-square-foot price.
The main campus of Central Piedmont Community College is located on the edge of Elizabeth. CPCC is the largest community college in the state and has satellite campuses across the region.
A short walk from the campus is Thompson Park, home to Mecklenburg's Vietnam Veterans Memorial. The quaint St. Mary's Chapel, also in the park, is owned by the city, but available to anyone to rent for weddings.
It's hard to imagine three hospitals on one block, but that's exactly what you find at the intersection of Randolph Road and Caswell Avenue. Presbyterian Hospital, Presbyterian Orthopedic Hospital and CMC-Mercy Hospital are a stone's throw from one another. Numerous medical offices are also nearby.
Next to Elizabeth is Chantilly, a small neighborhood popular among young professionals who want to live in the shadows of Uptown. Chantilly features beautiful streets and charming bungalows. It's not yet as pricey as Elizabeth, though it's well on its way.
From Chantilly, you come to Plaza-Midwood, a neighborhood comprising several smaller subdivisions. Plaza-Midwood traces its development back to 1903, when the first roads and trolley line were laid among the trees. The community is bordered by Central Avenue and The Plaza.
Central Avenue has enjoyed a great deal of redevelopment lately that complements its antique shops and vintage clothing stores. New restaurants and entertainment venues have made it a hot destination.
The Plaza is a residential boulevard lined with stately old homes, including the historic Van Landingham Estate, a bed and breakfast which is available to rent for special events.
The wide variety of homes in Plaza-Midwood may be the draw behind its diverse population. This is one of the few historic neighborhoods ringing Uptown where you will still find charming, affordable homes among larger, expensive homes. As with other historic neighborhoods, Plaza-Midwood is seeing its share of infill projects where the price per square foot is relatively high.
Charlotte Country Club, the city's oldest country club, is surrounded by grand homes dating back to 1920. The Country Club's quiet, curving streets blends seamlessly with those of Plaza-Midwood, making the two communities seem singular.
The latest urban neighborhood to see a rebirth is Historic North Davidson, or "NoDa." The community, out North Davidson Street at about 35th Street, is known for its funky art galleries and colorful bungalows. In addition to old shotgun homes, NoDa has seen a boom in residential construction in the past few years. The Renaissance offers 230 affordable townhomes with a variety of floor plan options and the 100-year-old Highland Park Mill No. 3 at 33rd and North Davidson has been renovated into urban apartments..