The region provides easy access for weekend excursions to the shores of North and South Carolina beaches and day trips to mountain retreats and resorts. Charlotte and the metro region also have great destinations for a day of education about our history or just plain fun!
As a newcomer, you can research Charlotte's past by visiting the Charlotte Museum of History, Historic Rosedale and Latta Plantation. Reed Gold Mine in Cabarrus County will take you back to the golden days of this region's beginning. York County preserves the Catawba Indian traditions at the Catawba Cultural Center. And you can revisit our presidential history at James K. Polk Memorial and the memorial to Andrew Jackson.
Charlotte natives and newcomers always marvel at the seasonal delights of local color at numerous gardens and nature trails. There are a variety of botanical gardens to visit during all seasons of the year. Whether it's football at Bank of America Stadium, race cars at Lowe's Motor Speedway or amusement rides at Paramount's Carowinds, the Charlotte Metro Region provides plenty of places to go and things to do.
Anne Springs Close Greenway
This protected natural area of 2,300 acres includes 32 miles of trails, a nature center and a 35-acre reservoir for fishing. 1600 U.S. 21 Bypass, Fort Mill. 803-547-1003. www.leroysprings.com/Greenway.html.
Backing Up Classics
History hits the road at this car museum near Lowe's Motor Speedway. 4545 U.S. 29, Concord. 704-788-9500. www.backingupclassics.com.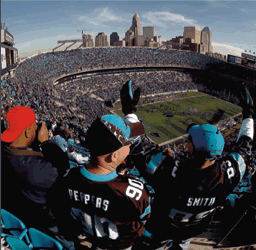 Bank of America Stadium
Particularly after their 2004 Super Bowl debut, the Carolina Panthers' $165 million black-and-blue stadium dominates its end of Uptown and is worth a trip even when no game's scheduled. Tours are conducted each Wednesday and group tours can be scheduled during the week. 800 S. Mint St., Charlotte. 704-358-7000. www.panthers.com/stadium.
Carolina Raptor Center
See bald and golden eagles, owls, hawks and other birds of prey at this center, located at Latta Plantation Park. 6000 Sample Road, Huntersville. 704-875-6521. www.carolinaraptorcenter.org.
Catawba Cultural Center
This center on the Catawba Indian Reservation preserves the culture of the Catawba Nation with an emphasis on literature and crafts. 1536 Tom Steven Road, Rock Hill. 803-328-2427. www.ccppcrafts.com.
Charlotte Museum of History/Hezekiah Alexander Homesite
Discover how earlier Charlotteans lived at this complex, which includes the city's oldest dwelling, dating back to 1774. 3500 Shamrock Drive, Charlotte. 704-568-1774. www.charlottemuseum.org.
Charlotte Trolley and Trolley Museum
Board the trolley at the Atherton Mill complex in South End for a ride. 2104 South Blvd., Charlotte. 704-375-0850. www.charlottetrolley.org.
Daniel Stowe Botanical Garden
Spread out over 110 acres, these gardens feature colorful flowers, distinctive plants, fountains and trails. 6500 S. New Hope Road, Belmont. 704-825-4490. www.dsbg.org.
Discovery Place
Science and technology take center stage at this hands-on museum, which includes discovery halls, an aquarium, the Charlotte Observer IMAX® Dome Theatre, the Challenger Learning Center, an aquarium and KidsPlace toddler room. 301 N. Tryon St., Charlotte. 704-372-6261. www.discoveryplace.org.
EnergyExplorium
Learn about different forms of energy with hands-on exhibits at McGuire Nuclear Station. 13339 Hagers Ferry Road, Huntersville. 704-875-5600.
www.dukepower.com/community/learningcenter/visitorcenters/explorium.asp.
Jesse Helms Center
This center honors native son Jesse Helms, longtime U.S. senator and nationally known conservative. 3900 U.S. 74 E., Wingate. 704-233-1776. www.jessehelmscenter.org.
Hickory Furniture Mart
The nation's leading home furnishings resource. A hundred factory stores, outlets and galleries offering more than a thousand lines, most sold at discount. Hotel, restaurant, shipping service. 2220 Hwy 70 SE, Hickory. 800-462-MART. www.hickoryfurniture.com.
Historic Rosedale
This home and eight acres were once the centerpiece of a 911-acre plantation. 3427 N. Tryon St., Charlotte. 704-335-0325. http://libweb.uncc.edu/archives/crhc/rosedale.htm.
Latta Place
Catch a glimpse of backcountry life at this circa-1800 home in Latta Plantation Park. 5225 Sample Rd., Huntersville. 704-875-2312. www.lattaplantation.org.
Lowe's Motor Speedway
Visit Charlotte's superspeedway on a tour that includes pit road and the garage area. On days when the track isn't in use, you can also ride around the 1.5-mile oval. 5555 Concord Pwky. S., Concord. 704-455-3200. www.lowesmotorspeedway.com.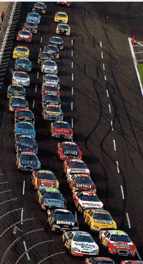 McDowell Nature Center
Delight kids with the creepy, crawly insects featured at this education center and the surrounding 1,108-acre McDowell Park on Lake Wylie. 15222 York Road, Charlotte. 704-588-5224. www.parkandrec.com.
Mooresville Racers' Shops
Nicknamed Race City USA, Mooresville is home to many NASCAR racing teams that welcome fans for shop tours and souvenir shopping. For locations visit the N.C. Auto Racing Hall of Fame.
Museum of the Alphabet
Learn how man's alphabets and languages developed and how Wycliffe Bible Translators develop written representations of spoken languages. 6409 Davis Road, Waxhaw. 704-843-6000. www.jaars.org/museum/alphabet.
Museum of the Waxhaws/Andrew Jackson Memorial
President Andrew Jackson, known as "Old Hickory," grew up nearby. 8215 Waxhaw Hwy. (N.C. 75 East), Waxhaw. 704-843-1832. www.perigee.net/~mwaxhaw.
Museum of York County
Films, planetarium, art galleries, nature trail land exhibits including more than 200 mounted African animals. 4621 Mount Gallant Rd., Rock Hill, S.C. 803-329-2121. www.yorkcounty.org.
Nature Museum
Next to Freedom Park, this urban science center exhibits animals and plants of the Piedmont and includes a butterfly garden. 1658 Sterling Road, Charlotte. 704-372-6261. www.discoveryplace.org.
N.C. Auto Racing Hall of Fame
Winning Winston Cup and Indy cars park alongside dragsters in this salute to the history and heroes of auto racing. 119 Knob Hill Road, Mooresville. 704-663-5331. www.ncarhof.com.
Paramount's Carowinds
Visitors of all ages will enjoy this amusement park. 14523 Carowinds Blvd., Charlotte. 704-588-2600. www.carowinds.com.
James K. Polk Memorial
This rustic memorial pays tribute to the nation's 11th president, born here in 1795. 308 S. Polk Street, Pineville. 704-889-7145. www.ah.dcr.state.nc.us/sections/hs/polk/polk.htm.
Queen City Tours
For a close-up look at your new city, try a tour. 704-566-0104. www.queencitytours.com.
Reed Gold Mine
Cabarrus County was the site of the nation's first authenticated gold find. 9621 Reed Mine Road, Stanfield. 704-721-4653. www.itpi.dpi.state.nc.us/reed.
UNC Charlotte Botanical Gardens
Take a break from city life at three green spots: the Van Landingham Glen, a rhododendron garden; the Susie Harwood Garden, with year-round displays; and the McMillan Greenhouse, which includes a rain forest and orchids. UNC Charlotte, 9201 University Blvd., Charlotte. 704-687-2364. http://gardens.uncc.edu.
Wing Haven
A garden and bird sanctuary in Myers Park. 248 Ridgewood Ave., Charlotte. 704-331-0664. www.winghavengardens.com.