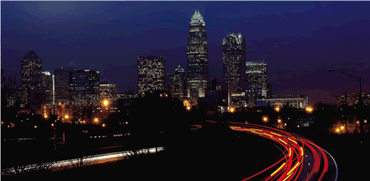 The Queen City prides itself on its supportive business attitude and the vital, growing firms that benefit from it. In return, businesses and the services that support them have helped shape the city and the region – an area with a strong and diverse economy, high-quality expanding workforce, solid technical, educational and transportation resources, vibrant communities and diverse lifestyles. The influx of new, skilled workers to the area and partnership between the private sector and public agencies ensures that Charlotte will continue to be a great place to do business.
Finance is a major player here; with more than $1.8 trillion in assets, Charlotte is second only to New York City. Five of the nation's top 150 banks have operations in Charlotte. The two largest banks in the country in terms of deposits – Bank of America and Wachovia Corporation – are based here. Both institutions have branches throughout the nation and provide specialty banking services worldwide.
Uptown's skyline has been influenced by these and other banks, whose growth is reflected in skyscrapers such as Bank of America Corporate Center, The Hearst Tower, the IJL Financial Center and One Wachovia Center. Beyond its financial prowess, Charlotte is also home to seven Fortune 500 companies including Duke Energy, Bank of America, Nucor Corp., Goodrich, SPX and Sonic Automotive. The headquarters for Family Dollar, Food Lion and Lowe's are located in nearby suburbs. Additionally, more than 310 Fortune 500 businesses operate facilities in Charlotte.
Small businesses flourish in the area as well. In the past 10 years, over 8,000 firms have opened in Charlotte, investing $9.6 billion and offering more than 74,000 new jobs.
As a manufacturing center, Charlotte is home to more than 2,000 manufacturers that employ over 100,000 workers in textiles, electronics, printing, plastics, industrial machinery and other industries.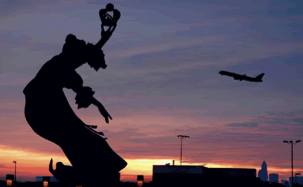 UNC Charlotte has partnered with the public and private sectors to create the Charlotte Research Institute, an umbrella organization of businesses and government entities that fosters research and collaboration. The 1.2-million-square-foot facility is located on the campus of UNC Charlotte.
Charlotte's status as a transportation hub significantly facilitates economic growth. Served by a superb network of highways and as the center of the country's largest consolidated rail system, Charlotte continues to be a focal point for development in the Southeast. The ever-expanding outer belt, I-485, has helped to increase development along Charlotte's outskirts.
If you flew in for a job interview or a house-hunting trip, you've already seen Charlotte/Douglas International Airport, the nation's 12th busiest airport in terms of operations. The facility, on the city's west side, averages 587 flights daily and enplanes more than 28 million passengers each year. Charlotte is the largest hub for US Airways, which offers flights to points all over the United States and internationally, including non-stop service to 123 destinations.
In 2004, Johnson & Wales University dissolved their Norfolk and Charleston locations and moved to Gateway Village in Uptown Charlotte. The school, which focuses on business, hospitality, culinary arts and technology, brings more than 2,000 students to Uptown as well as a full campus, an addition that significantly enhances business prospects in the Center City.
The Bobcats, Charlotte's new NBA expansion team owned by Black Entertainment Television founder Robert Johnson, is anticipated to bring in considerable economic growth to the Charlotte region. After playing their first season in the Charlotte Coliseum, the Bobcats moved to the Charlotte Arena in First Ward for their 2005-2006 season, bolstering commercial and residential development in Uptown.
Another new business is the Billy Graham Evangelistic Association headquarters, which recently moved from Minneapolis to Charlotte – Billy Graham's hometown. The headquarters adds hundreds of new jobs and draws thousands of tourists.
In 2006, the U.S. National Whitewater Center opened – a world-class whitewater park, modeled after the 2000 Olympic site in Australia. Located at the intersection of I-85 and I-485, the U.S. National Whitewater Center brings in tourists, outdoor sports enthusiasts and professional athletes from across the country.
According to the Charlotte Chamber, nearly 600 foreign-owned companies do business in Charlotte's 15-county region, representing half of all foreign companies in the state. Countries with the greatest representation include Germany, Japan and Great Britain, with Swiss, Italian and Canadian firms on the rise. Charlotte's banking industry has been extremely accommodating to start-up firms and minority businesses.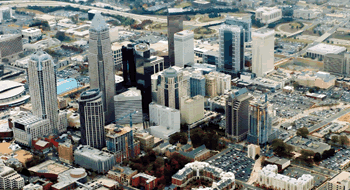 All this business has given Charlotte an extremely healthy economy. The city has an exceptionally low unemployment rate and has continued to grow steadily.
Business doesn't stop at the county line, either. Other counties in the Charlotte metro region have equally healthy economies, thanks to their proximity to Charlotte's amenities, as well as their own aggressive recruiting efforts and, in some cases, incentives to relocating businesses.