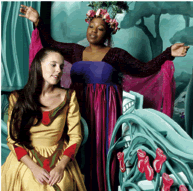 Actor's Theatre of Charlotte
In 2004, the Actor's Theatre moved to its Stonewall location with its 199-seat intimate Main Street Theatre and 50-seat Black Box Theatre. The Actor's Theatre also sponsors educational programs for the community. 650 E. Stonewall St., Charlotte. 704-342-2251. www.actorstheatrecharlotte.org.
Afro-American Children's Theatre
This organization provides exposure to various arts media to children and youth ages 6-21. 926 Elizabeth Ave., Charlotte. 704-372-7410.
Afro-American Cultural Center
The center is a regional showcase for art, music, theater, film and cultural education. 401 N. Myers St., Charlotte. 704-374-1565. www.aacc-charlotte.org.
Carolina Actors Studio Theatre
Located in Plaza-Midwood, this intimate theater presents highly acclaimed comedy and drama productions as well as acting classes. 1118 Clement Ave., Charlotte. 704-455-8542. www.nccast.com.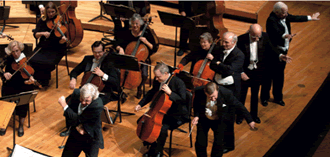 Carolina Voices
Founded as the Charlotte Choral Society in 1954, the Carolina Voices performs Charlotte's longest-running holiday tradition – the annual " Singing Christmas Tree." The group also features performances throughout the year. 1900 Queens Road, Charlotte. 704-374-1564. www.carolinavoices.org.
Carolinas Concert Association
For more than 75 years, the Carolinas Concert Association presents orchestras, musicians, vocalists and dancers and sponsors educational programs for local schools. 704-527-6680. www.carolinasconcert.com.
Central Piedmont Community
College Theatre
In its 33rd season in 2006, CPCC's summer theatre program sponsors this series that features plays and musicals at the Pease Auditorium on the campus of CPCC. Elizabeth Ave. at Pease Lane, Charlotte. 704-330-6534. www.cpcc.edu/summer_theatre.
Charlotte Philharmonic Orchestra
The Charlotte Philharmonic welcomes world-renowned singers and musicians in addition to its holiday concert and new Popcorn Pops series for children. 704-846-2788. www.charlottephilharmonic.org.
Charlotte Civic Orchestra
This vocational orchestra performs all-classical music with affordable ticket prices and a family-friendly atmosphere. 704-344-0098. www.charlottecivicorchestra.org.
Charlotte Symphony Orchestra
Each year this professional orchestra provides a season filled with innovative works, the classics and guest conductors and performers. The symphony also performs a free Summer Pops series at Symphony Park in SouthPark. 704-972-2000. www.charlottesymphony.org.
Charlotte Youth Ballet
This company produces storybook ballets for families and schoolchildren presented by student dancers. 704-366-5133. www.charlotteyouthballet.com.
Children's Theatre of Charlotte
Located in the new ImaginOn center, Children's Theatre delights the young (and young-at-heart) with plays and musicals just for them. 300 E. 7th St., Charlotte. 704-376-5745. www.ctcharlotte.org.
Community School of the Arts
This school provides instruction in music, visual arts and drama to interested youth. 345 N. College St., Charlotte. 704-377-4187. www.csarts.org.
Davidson Community Players
This community troupe stages summer shows, dinner theater and children's programs in Davidson. 704-892-7953. www.davidsoncommunityplayers.org.
The Light Factory
The Light Factory displays changing exhibits by local, national and international photographers in Spirit Square. 345 N. College St., Charlotte. 704-333-9755. www.lightfactory.org
McColl Center for Visual Art
This former burned-out church is now an artists' colony. 721 N. Tryon St., Charlotte. 704-332-5535. www.mccollcenter.org.
Mint Museum of Art
The Mint holds a permanent collection of American paintings and sculpture; pre-Columbian, African and Spanish Colonial art; costumes; and porcelain and pottery. 704-337-2000. 2730 Randolph Road, Charlotte. www.mintmuseum.org.
Mint Museum of Craft + Design
This museum, which focuses on works in fiber, glass, wood, ceramics and metal, opened in 1999. 220 N. Tryon St., Charlotte. 704-337-2000. www.mintmuseum.org.
North Carolina Blumenthal
Performing Arts Center
This center, which includes the Belk Theatre and the Booth Playhouse, is home to the Charlotte Symphony, North Carolina Dance Theatre, Opera Carolina, Charlotte Repertory Theatre, Charlotte Choral Society and the Carolinas Concert Association. 130 N. Tryon St., Charlotte. 704-372-1000. www.blumenthalcenter.org.
North Carolina Dance Theatre
In its 35th season, this professional company presents classic and contemporary works. 800 N. College St., Charlotte. 704-372-1000. www.ncdance.org.
Opera Carolina
This organization stages classic tales of love and hate, intrigue and drama at Blumenthal Performing Arts Center. 704-332-7177. www.operacarolina.org.
Ovens Auditorium
This venue was once Charlotte's main auditorium and continues to feature musical and theatrical productions throughout the year. 2700 Independence Blvd., Charlotte. 704-372-3600. www.ovensauditorium.com.
Paramount's Carowinds Paladium
Carowinds' amphitheater hosts some of the hottest acts in the country. 14523 Carowinds Blvd., Charlotte. 704-588-2600. www.carowinds.com.
Spirit Square Center for
Arts & Education
Spirit Square offers touring performances, art classes and gallery exhibits and has made children's arts education one of its main missions. 345 N. College St., Charlotte. 704-372-1000. www.blumenthalcenter.org.
Theatre Charlotte
Theatre Charlotte has been entertaining audiences since 1927. 501 Queens Road, Charlotte. 704-376-3777. www.theatrecharlotte.org.
Verizon Wireless Amphitheater- Charlotte
This open-air venue in University City welcomes rock, pop and rap artists and includes reserved and lawn seating. 704-549-5555. www.verizonwirelessamphitheater.com/charlotte.
Cabarrus County
Arts Experience
This project encourages youth to participate in performance and educational programs to enhance their appreciation for the arts. 11 Union St. S., Concord. 704-795-2787. www.artsexperience.org.
Cabarrus Art Guild
Cabarrus Art Guild conducts workshops, field trips and exhibits. 120 Marsh Ave. NW, Concord. 704-782-6610. www.cabarrusartguild.org.
Cabarrus Arts Council
Cabarrus Arts Council provides art enrichment in the schools, and major performances of dance, theater or music for children. 120 Marsh Ave. NW, Concord. 704-782-6610. www.cabarrusartscouncil.com.
Cabarrus Vocal Ensemble
Cabarrus Vocal Ensemble sings classical and pop. 120 Marsh Ave. NW, Concord. 704-782-6610.
Old Courthouse Theatre
Old Courthouse Theatre is the home for this community theater troupe in its 30th season. 49 Spring St. NW, Concord. 704-788-2405. www.oldcourthousetheatre.org.
Southern Iredell County
Mooresville Artists Guild
Mooresville Artists Guild presents featured artists and sponsors local festivals. 103 W. Center Ave., Mooresville. 704-663-6661. www.mooresvilleartistguild.com.
Mooresville Community Theatre
Comedy and musicals are the fare at this community theatre. 704-662-1025.

Union County
Rainbow Theatre
This community theater emphasizes youth participation in theater, dance and music. 120 N. Main St., Monroe. 704-283-2784.
Union County Community Arts Council
Union County Community Arts Council coordinates arts celebrations in Weddington, Indian Trail, Waxhaw, Stallings and Wingate. 120 W. Main St., Monroe. 704-283-2784. www.unionarts.org.
Union County Players
Community Theater
Union County Players Community Theater offers musicals, dramas and special shows. 704-289-7000.

York County
Arts Council of Rock Hill and York County
Arts Council provides an arts and entertainment hotline at 803-328-2220, and sponsors the Arts Alive summer camp and an annual Jubilee: Harvest of the Arts. 121 E. Main St., Rock Hill. 803-328-2787. www.rockhillarts.org.
Catawba Cultural Preservation Project
Catawba Cultural Preservation Project displays examples of Catawba Indian traditions. 1536 Tom Steven Road, Rock Hill. 803-328-2427. www.ccppcrafts.com.
Fort Mill Community Playhouse
Fort Mill Community Playhouse produces several shows a year including a dinner theater performance. 513 Banks St., Fort Mill. 803-548-8102. www.fortmillplayhouse.org.
King's Arena Amphitheater
King's Arena Amphitheater presents Biblical musical dramas by volunteer actors. 2175 Gethsemane Ct., Fort Mill. 803-802-2300. www.narroway.net.
Rock Hill Community Theatre
Rock Hill Community Theatre presents several dramatic productions during the year. 236 W. Main St., Rock Hill. 803-324-2578. www.rhcommunitytheatre.org.