Viewed from an upper level in one of Charlotte's glitzy skyscrapers, the Uptown roofs below resemble an ever-changing sea. There is new construction everywhere – high-, mid- and low-rise. Moreover, a good many of those roofs represent homes: penthouses, condominiums, apartments and even single-family homes.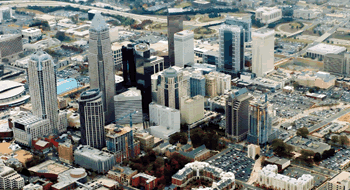 Uptown is one of the city's fastest-growing areas, with 11,000 residents – a number that is expected to increase to 21,000 by 2010. In fact, there is so much housing growth that the Multiple Listing Service has given Uptown its own designation: Area 99.
Hundreds of dining establishments and late-night bars attract the urban crowd – a figure that is steadily increasing.
As the numbers grow, so do the amenities that add so much to life. Some Uptown residents find so much here to entertain them that they park their cars on Friday and don't move them the entire weekend. They're within walking distance of much of the city's cultural and entertainment venues, with more headed their way.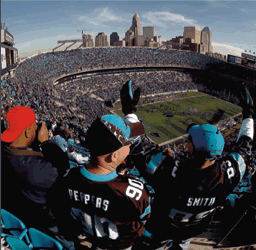 Block-long, massive Bank of America Stadium anchors Uptown on the southwest end. Snarling panther statues outside the gates hint at the passions inside as the Carolina Panthers take on NFL opponents.
On the other side of Uptown, the new Charlotte Arena is home to the NBA expansion team Charlotte Bobcats. The growing First Ward neighborhood, once the site of numerous parking lots, has seen significant changes in recent years, in part due to the construction of the new arena.
The aptly-named Courtside is a 17-story high-rise of 106 condominiums in First Ward at the corner of Sixth and Caldwell. Recently completed, it features 7,500 square feet of retail and restaurants at the street level.
The city's cultural district, dubbed North End, extends from the center's front door southward to the center of town: Independence Square, at Tryon and Trade streets.
This district includes Discovery Place science museum, the main branch of the Charlotte-Mecklenburg Library, North Carolina Blumenthal Performing Arts Center, Spirit Square, the Mint Museum of Craft + Design, the McColl Center for Visual Art and a handful of private art galleries. The area also includes the Levine Museum of the New South and the new $40 million ImaginOn, an ambitious project of the Charlotte-Mecklenburg Library and Children's Theatre that includes a youth library, classrooms, technology
center, early childhood reading center, performance stages and a craft shop.
The University of North Carolina at Charlotte is planning an urban village in First Ward with classroom space as well as retail, entertainment and residential units. The campus will provide classes for Uptown workers, mostly in business, architecture and engineering. The Urban Village could open as soon as 2009.
Charlotte worked hard to lure the NASCAR Hall of Fame to town. Construction is now under way on the corner of Caldwell and Stonewall and the facility is expected to be competed by 2009.
Opportunities to eat, drink and be entertained abound in Uptown. The number and variety of Uptown restaurants keep growing, with fine dining, down-home Southern standbys and ethnic cuisine all part of the mix.
Prefer to dine on your rooftop terrace or by your urban window? Reid's Fine Foods at Seventh Street Station parking garage supplies Uptown kitchens. In summer, you can supplement the fare with farm-fresh produce from the Center City Green Market in the Station's plaza.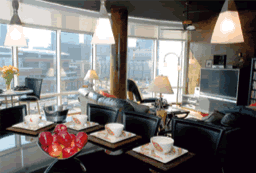 Until recently, the Charlotte trolley could be heard clanging from the Atherton Mill in South End up to Ninth Street in Uptown. Its operation has been suspended until late 2007 while the light rail line is constructed in South End. The #85 car was built at the Dilworth Trolley Barn in 1927 and is Charlotte's only original electric trolley car still in operation. When operation resumes, the trolley will run seven days a week.
A new Trolley Barn is in the works that would also provide public space shared with the light rail line. The project would be a common area for South End.
The current route was rebuilt to accommodate the light rail system, which will share the trolley corridor. The system, which runs through the Charlotte Convention Center and the Westin Hotel, will link Charlotte to outlying towns beginning in late 2007.Anticipation for the light rail system has caused property values to skyrocket along the proposed route.
For a long time, Fourth Ward was the only residential pocket in what was the concrete expanse of Uptown. The turn-of-the-century homes in this quaint quadrant between North Tryon and West Trade streets had fallen into disrepair but were restored by determined homeowners and the bank that became Bank of America.
Fourth Ward is now one of the most charming spots in the city with its sidewalks and street lamps, its cozy front porches and Fourth Ward Park. Nearby, Ark Group is converting an old textile mill in the area into a "stroll district" with outdoor stages, night clubs and a recording studio.
A new condominium community, The Citadin at Fourth Ward Square, covers the entire block between Eighth and Ninth streets on North Graham. With retail on the street level, The Citadin is composed of two 25-story towers and two 11-story buildings. The 427 units range from the $300s to around $2 million.
Fifth and Poplar, a 305-unit mix of penthouses, condominiums and townhomes, offers a number of amenities, including a concierge service, state-of-the-art fitness center, central courtyard and its very own Harris Teeter Supermarket.
In Third Ward, Uptown's southwest quadrant, small, renovated homes mix with new condominiums and apartments. It's flanked on its southern side by Bank of America Stadium, the Panthers' practice field and on its northern side by West Trade and Gateway Village – Bank of America's mammoth new mix of homes, retail and office space that also houses Johnson & Wales University students. The Village stretches along five blocks of West Trade and also has a YMCA. Gateway Lofts and Post Gateway Place near Trade Street also add hundreds of residential units to Uptown. Property in Third Ward is also being considered as the eventual home of an Uptown baseball stadium.
The last piece of the Uptown residential puzzle began with The Ratcliffe on the Green, an upscale condominium high-rise in Second Ward, an area in the southeast quadrant of Uptown that had been occupied mostly by government buildings. The luxurious Ratcliffe offers an interactive park with fish fountains and landscaped walkways and is surrounded by 60,000 square feet of retail and office space. The Green, a 1.5-acre park built over an underground parking deck, is a popular gathering spot during the week and is converted into an ice skating rink during the winter months.
Lately, it seems that development of Uptown high-rises is happening everywhere. Over a dozen new buildings are expected to open in the next few years.
At 13 stories, the brand-new 230 South Tryon offers 110 studio, one-, two- and three-bedroom units as well as several penthouses ranging from $300,000 and $1.5 million.
At the site of the old Charlotte Convention Center in Second Ward, EpiCentre is a retail/residential complex that stands 50 stories with 428 luxury rental units. Retail shops on the street level are completed and the residential section – 210 Trade – is expected to be ready in 2008.
At Poplar, Mint and Trade streets, the 28-story TradeMark features five levels of office, retail and restaurant space, 202 residential units as well as a pool terrace, exercise room and community facilities. Units are priced from $265,000 to $765,000.
The Park rises 21 stories above Third and Caldwell streets. Its verdant rooftop includes gardens, sitting areas, a walking trail, a pool and a small forest of trees.
At Fifth and Church, 36-story Avenue offers 386 one- and two-bedroom condos with floor-to-ceiling windows, a pool and sundeck.
Another high-rise, The Vue, will open in 2009 with 50 stories and 403 units ranging between $300,000 and $2 million. The Vue is located at Fifth and Pine in Fourth Ward.
About 400 condominiums and 140 hotel suites will compose TWELVE, a 33-story high-rise on College Street between Seventh and Eighth streets. TWELVE will open in early 2009.
New residents will want closer shopping centers, and retail is coming Uptown to meet that need. Metropolitan, a mixed-use development set to open in 2008, will include a stacked Home Depot and Target as well as urban lofts and terraces overlooking the Little Sugar Creek Greenway.
In First Ward, Quarterside will be a mixed-use development of retail and loft-style condos off McDowell between Sixth and Seventh streets.
The excitement that attracts people to live in Uptown is evident also in commercial life. The Westin Hotel on Stonewall and College streets opened in 2003, offering a unique new building for the Charlotte skyline. With 700 rooms, the hotel is right across from the Charlotte Convention Center and features a bar, restaurant and about 40,000 square feet of meeting space.
The Hearst Tower on North Tryon Street soars 46 stories, making it the city's second-tallest building after the Bank of America tower, which rises above all others at 60 stories. Across Tryon, the 30-story IJL Financial Center, which was built in 1996, shares similar window designs and exterior colors as the Hearst Tower. Three Wachovia Center ascends 32 stories on South Tryon, and a 28-story tower at 300 S. Tryon includes a front courtyard and outdoor seating and dining.
It's all happening within a relatively small area – the blocks radiating outward from the intersection of Trade and Tryon streets. For the city at large, that's the center of action.
And for an increasingly large number of Charlotteans, it's the place they call home.